Chessler Books 1984-2018
34 Years of Mountaineering Books
Another Way to Look at Ebay and Amazon
Ebay and Amazon started great ideas, and needed to find a void they could fill. Sending lots of confirmation emails after a sale, and tracking a package, was really telling the customers stuff that was never needed by anybody before, and has now become standard fare. When we started in mail order in 1984, decades before ebay and Amazon, mail order was really conducted by mail both ways. You sent us an order by mail or phone. You placed your order and then you got your stuff. Simple. If you had a question, just call or email us.

We have bought and sold on Amazon and Ebay and noticed their constant emphasis on confirmation emails being sent to assure the customers that something was happening. We never felt that we were being alerted to some great idea of how to sell books.

In fact, we had some good ideas too. Carry everything worthwhile. Find the books that are NOT on Ebay and Amazon. Offer choices, cheap copies and collectible copies. One revelation I had thirty years ago was that new climbing guidebooks for small areas are often sold by the author only to his friends, as he felt he already knew everybody who climbed there. That's the kind of guidebook we love. A lot of those author/climbers/publishers will never use Amazon.

Our best idea was to get our books signed. Since all we sell are climbing books, and are climbers ourselves, we found our niche there. It's why we never got shut down by the internet like so many bookstores.

Our mail order (oops, new word, on-line) education also taught us that acquiring new customers was number one. We never thought that sending lots of confirmation emails had much value. It was another chore to make it look like we were thinking of you! The real reason for TRACKING is not to help you. TRACKING is to protect the websites against people who make false claims about not getting their package!


We need to replace our weighing scales every once in a while. We noticed that almost all scales available on mass market websites are very cheap, and are junk. We bought some. We looked for the expensive ones, that ones that places like Amazon and LLBean itself uses in-house. Professional scales are not shown on their website! Why? Here is the secret: a lot of really good stuff on the planet is not and never will be on Ebay or Amazon.

Why is our best selling books, Chouinard, below, not on Amazon, or almost everywhere else. Amazon ripped off the publisher on previous books and won't pay their old bill! Also, when Amazon killed all the small bookshops, that had a ripple effect, and put all the book wholesalers, middlemen between publishers and bookshops, into bankruptcy. When wholesalers pay their unpaid bills, caused by Amazon's actions initially, then bookshops can have the Chouinard book! Amazon actually has a depraved attitude toward other businesses, and even to their own employees.

Our 2017 Best Selling Book! [not on amazon]

YVON CHOUINARD: GOING HIS WAY [BIOGRAPHY] William Stratton 2017 1st ed
New Hardcover IN STOCK!
By: Stratton, William. Photographs by Tom Frost
Price $29.95
- Item # BK27651 View Details
March 19, 2017 Rare Book Listings:
Rare books added March 19, 2017: http://bit.ly/2mJIkZF

March 5, 2017 Rare Book Listings:

Rare books added March 5, 2017 http://tinyurl.com/h5leu3t
2017 After Christmas Sale
Please see special sale prices here: http://tinyurl.com/zrzg5d6

New Book Category: $10 and less


In summer 2016 we created a new Sale Category for less expensive climbing and adventure books we have in stock, at unprecedented low prices, $10 and less. Access is from the first tab on the top of every page of this website.

Due to recent purchases, plus left over books from 50 years of book collecting and book selling, we now have more books than we can sell in whatever time we have left. So we have turned back the clock price-wise, to those innocent pre-internet days, when bookshops were filled with great books at very low prices.

Check our $10 and less category (first green tab above) frequently. Also, please check our New Arrivals Category (top center) as we add new titles almost every day.

Cheers,

Michael Chessler


RARE CLIMBING BOOK BONANZA

2017

Dear friends,
We are thrilled to announce our acquisition in 2016 of one of the finest collections of used, rare and collectible books on mountaineering that we have ever seen. It is currently all for sale, and available as fast as we can get it shown on our website.
PLEASE ADD YOUR NAME TO OUR MAILING LIST, AND CLICK ON NEW ARRIVALS EVERY WEEK TO SEE WHAT HAS BEEN UPLOADED.
UP TO 4000 RARE CLIMBING BOOKS IN GREAT CONDITION!
In half a year we have listed half the books. It filled 150 boxes that had an average weight of 40 pounds. That's three tons! Our source, a long time book collector, was extremely knowledgeable about the history of mountaineering, its literature in many languages, and what it took to make a great book collection.
MANY BOOKS AND DUST JACKETS ARE UNKNOWN TO US
We now have many books, editions and dust jackets that we had never seen, or even knew existed. This library has many better condition examples, and amazingly scarce and well preserved dust jackets, that will make the serious book collector salivate with desire. It did that to me.
Please be sure to join our mailing list as we announce a new selection of 50-100 books every week or two:
ALWAYS 2500+ DVDS AND BOOKS ON SALE

For 2016, we are continuing our weekly book and DVD sales. Please sign up for our mailing list, or check New Arrivals every week or two. Our inventory was reduced by several thousand items in 2015-2016 [thank you!] but we need to pare off more. We still have a 24 foot storage unit in which we have stored extra inventory for 25 years, and we'd like to close that bit of overhead.

If you click on the SALE buttons on top, or left, of every page, almost every sale item will show. There is also a separate Sale button under DVDs.

If you need help, just e-mail or call us. Contacts on the left of this page, below.

We Ship All Orders Tuesdays and Thursdays
---
ARE THE SIGNATURES IN THE
BOOKS AND ICE AXES WE OFFER AUTHENTIC?


"How can we prove that the signatures on our
Books and Ice Axes are real?"

Here is the evidence, many of the culprits, caught with PEN IN HAND!
The photos were all taken by Michael Chessler or an assistant.


This is the first time I, Michael Chessler, met Ed Hillary. It was in the early 1990s and he actually came to our bookshop, then in Kittredge Colorado. We met with him many times for the next 20 years, when he would autograph books, ice axes for ourbookshop. We often went to meet him, in NYC, LA, SF, Banff, and several times to Auckland. He was always very nice to us, and we are proud to have known him. And yes, we made contributions to the Sir Edmund Hillary Himalayan Trust every time we met him.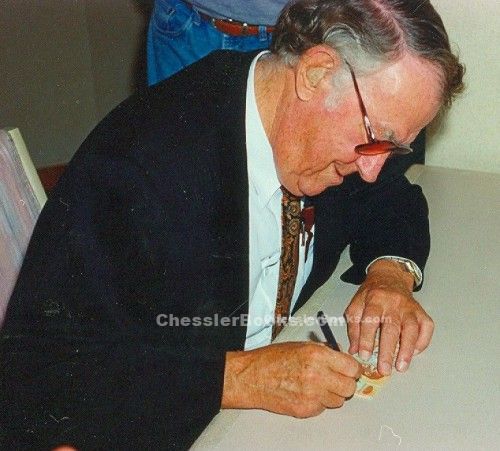 Above is Ed Hillary in Los Angeles in the early 1990s,
just after New Zealand honored him by putting his image on the $5 NZ currency. Knowing that Hillary would be asked to autograph the bills, the NZ Parliament passed a law allowing him to do so, because it was defacing the currency! We bought our first lot
of $5 bills at the best place to buy NZ money in LA. In the currency exchange window at Pre-TSA LAX of course! We are still selling real paper (not polymer) unused SIGNED New Zealand $5 bills from the first year of issue!





In June 2017 the great Tommy Caldwell autographed copies of his new book, The Push, for us, about his free climb of The Dawn Wall on El Capitan, his traverse of the Fitzroy Massif, and his kidnapping during a climb in Kyrgystan.





The amazing Alex Honnold in November 2015. Those pitons are all for sale, signed by Alex, on this website. In simple search look for "Honnold signed pitons. "
Babu Chirri Sherpa, who had the record for ten Everest ascents, and fastest climb from Bascamp to Summit, under 17 hours. Died in 2001.
Hot Henry Barber. One of the very few climbers whose personal style and superb ability changed and upgraded how everybody after him climbed. I even adopted a delightful habit of his, that he must have picked up on his famous world tour in the seventies. He likes to, and now I like to sign my name with a British "Cheers. "

Chris Bonington, signing books al fresco. His Everest expeditions were often
done in a grand style that reminded one of the British Raj on Tiger safari.
The Man.
The Austro-Hungarian Empire. My wife Heinke Forfota is Hungarian, and Kurt Diemberger is Austrian. They loved to chat in German.
Heinrich Harrer, a climber who had the nose for finding the best unclimbed peaks and routes in the world. Also, can you believe, the Austrian golf champion too!
Tomaz Humar. Died 2009. A sweet person, this was in Snowbird in 2002
the week before the Utah Winter Olympics.
Jamling Tenzing, showing me his father's (Tenzing Norgay) Porter Book. The book is signed by Tilman, Shipton, Ruttledge, Lambert, Denman, etc. I offered him a joking $100 for it.

Goran Kropp. On his one and only book tour. Died 2002. His slide
show was the funniest performance I have ever seen!
Jeff Lowe. One of America's greatest ice climbers.
Royal Robbins and Tom Frost. Nothing else needs to be said.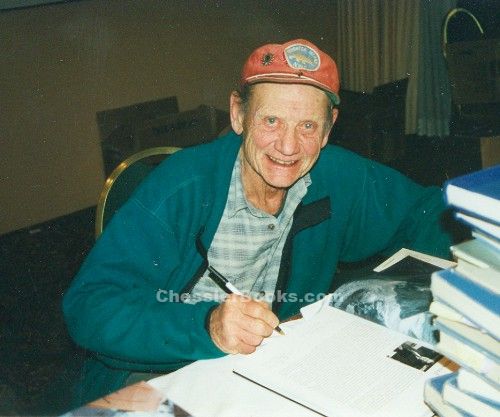 Pete Schoening. Died 2004. He did the first ascent of Gasherbrum I, Hidden Peak. America's only time making a first ascent of an 8000 meter peak. He also saved his whole team, seven lives in one belay, on K2 in 1953.
Bradford and Barbara Washburn, Roger Bilham, 2 Nepali Ministers. Brad died 2007.
Barbara made the first female ascent of Denali in June 1947.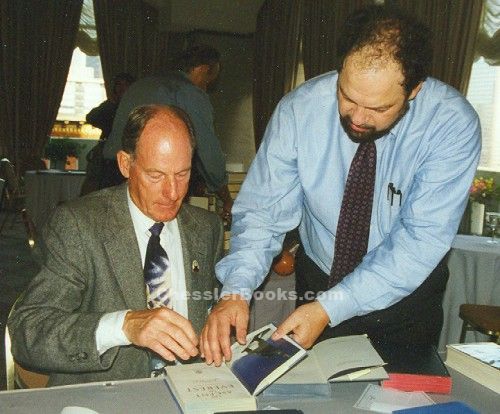 Jim Whittaker, with Michael Chessler. Jim's real accomplishment was being only the 10th person to summit Everest (he says he was 7th!), not the first American part.

Jim Wickwire, with Michael Chessler. Jim was one of the first Americans to climb K2, along with John Roskelley, Rick Ridgeway, and the strong and silent Louis Reichardt.
Reinhold Messner in our bookshop. More than anybody, he
created and nurtured high standard and ethical alpinism
in the high mountains of the world. Has anybody ever lived
their life so fully to the brim (and the edge) as he has?

David Breashears. A rock climber phenom
who made the transition to Everest climber and film-maker.
Conrad Anker. A great rock climber who learned how to use an ice axe and crampons. It's so wonderful to see a self-effacing guy like Conrad become so successful in his business, avocation and private lives.

Ed Hillary, in our bookshop in the 1990s. We met with him fifteen times in twenty years. Died 2008.
Fred Beckey, whose very name symbolizes the freedom
of climbing and the climbing life-style. He was 93 on
January 14, 2016. He told me he takes only one pill of medicine a day!


Jon Krakauer. His book Into Thin Air gave an unexpected boost to climbing.
Another quiet, self effacing climber who made the big-time.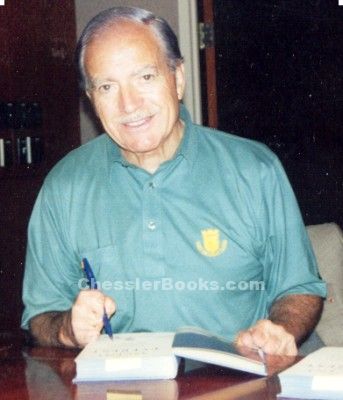 Maurice Herzog. See how he grips a pen with no fingers!
His handwriting was actually be excellent and readable!
What a great life he lived! Died 2012.

Contact Us
Please phone us at 303-670-0093, or E-mail
info@chesslerbooks.com
with any questions or problems! Call us between 10 AM and 5 PM Rocky Mountain Time.
Check Out These Great Titles:
(Click On Image Or Title To View Details)
REEL ROCK 11 DVD NEW 2016 [6 Films on 1 DVD] BOULDERING, ICE CLIMBING, KARAKORAM, EL CAPITAN Last 2 copies
By: Tommy Caldwell, Dean Potter, 'Sketchy' Andy Lewis, Ashima Shiraishi, Will Gadd, Kevin Jorgeson, Corry Richards, Obe Carrion, Sean Leary, Tim Emmett, Simone Moro, Denis Urubko, Hans Florine, The Huber Price $19.95 ~ List Price $29.95, You Save $10.00