Chessler Books 1984-2020
36 Years of Mountaineering Books
Over 500,000 books sold since 1984
As of July 2020 we are fully open for business.

Above: 100 boxes of books arrived in August 2020. Three rare book collections are still unpacked.
Another view of the 100 boxes of rare books that arrived in August 2020.
Above is the front hallway of my home in July 2020. We are doing an initial sort of a 1000 book mountaineering collection that we recently purchased. First sort: Size, New, Used, Guidebooks, Paperbacks. Second sort: Alphabetical by author. Then add to website, send a list of new arrivals to customers, and shelve by author. And yes, that is a 35 year old Video Tape, VHS, on top of the first pile.

Above is what 1000 books looks like in moving boxes. Approximately 1 ton of climbing books. For some boxes this is their third book collection in four years.

Rock Climbing and Mountaineering Guidebooks
The image above is our guidebooks section, new and used mixed together for the first time. We are drastically reducing our stock of guidebooks by lowering their prices. You can browse guidebooks by State or Country by using the green button above that says Guidebooks.
There is a way to see all the guidebooks in one long set of screens. Just use the advanced search area on the left, under Items Number search GB for new books, and OPG for all the used books.

Complete Liquidation Book Sale

Our Complete Liquidation Sale is going so well that we are again buying books! If you have a book collection to sell please let us know!
We are reducing prices to reduce inventory, please sign up for weekly email sales. Books are deleted when sold, so the best way to get them is to order from our emails!

Liquidation does not mean we are going out of business, we will never stop selling books while we are able. Liquidation mean we are trying to sell all our inventory at whatever prices are necessary to do that. Like most pre-internet booksellers we have been buying books as if the book business would stay strong, and I would live forever. Well, it didn't, and I won't.

Our Complete Liquidation Sale is going so well that we are again buying books! If you have a book collection to sell please let us know!

We realized that we had to start accelerating the rate of selling books. That means lowering prices, and opening those those dusty boxes of books in our warehouse. We also put on more staff so we could attract book lovers who could do my job, which is describing our books.
In fact, as of 2020 we are again buying books!

If you have a book collection to sell please let us know!
Every week we send an email list of Sale Books at sharply reduced prices. Please sign up for our mailing list (see below) as there is no other way to know what we are putting on sale, or when we are sending emails. Customer response has been terrific.

The only way to get the great books at bargain prices is to get our emails. Many books sell out within 12 hours!
Please get on our mailing list!

Over the last fifty years we have accumulated a gigantic stock of mountaineering books, mostly used, and many new as well. Also, thousands of our books are autographed by the great names of 20th century mountaineering. We also have lots of rock climbing and mountaineering guidebooks (new and used), climbing magazines and club journals, topographic maps, rare collectible maps, climbing hardware, nailed boots, wood handled ice axes, ephemera, art, photographs, posters, lithographs, signatures, plus books on skiing, Polar Exploration, Tibet, adventure travel, California History and similar subjects. We are now liquidating this climbing book and collectibles bonanza at prices unseen since the 1960s. Please get on our mailing list!
Michael Chessler
PLEASE ADD YOUR NAME TO OUR MAILING LIST, AND CLICK ON NEW ARRIVALS (On top of every page) EVERY WEEK TO SEE WHAT HAS BEEN UPLOADED.
Please be sure to join our mailing list as we announce a new selection of 50-100 books every week.
If you click on the SALE buttons on top and/or left side of every page, almost every sale item will show. There is also a separate Sale button under DVDs, and $10 & less.

If you need help, just e-mail or call us. Contacts on the left of this page, below.
We Ship Orders on Tuesdays and Thursdays
---
ARE THE SIGNATURES IN THE
BOOKS AND ICE AXES WE OFFER AUTHENTIC?


"How can we prove that the signatures on our
Books and Ice Axes are real?"

Here is the evidence, with many of the culprits,
caught on camera with PEN IN HAND!
The photos were all taken by Michael Chessler or an assistant.
Photos are copyright by Michael Chessler.


The photo above is the first time I, Michael Chessler, met Sir Edmund Hillary. It was in the early 1990s and he actually came to our bookshop, then in Kittredge Colorado. We met with him many times for the next 20 years, when he would autograph books & ice axes for our bookshop. We also went to meet him, in NYC, LA, SF, Banff, and several times to Auckland. He was always very nice to us, and we are proud to have known him. And yes, we made contributions to the Sir Edmund Hillary Himalayan Trust every time we met him.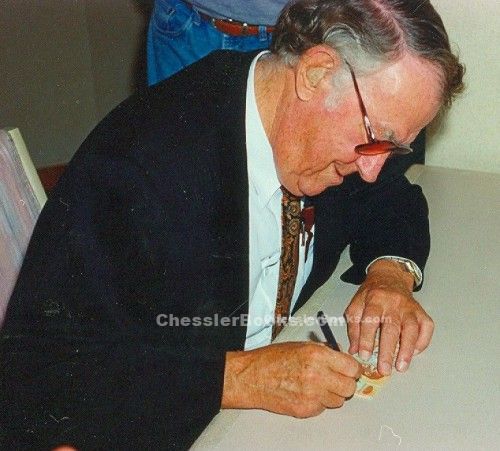 Above is Ed Hillary in Los Angeles in the early 1990s, just after New Zealand honored him by putting his image on the $5 NZ currency. Knowing that Hillary would be asked to autograph the bills, the NZ Parliament passed a law allowing him to do so, because it was defacing the currency! We bought our first lot of $5 bills at the best place to buy NZ money in LA, at the currency exchange window at Pre-TSA LAX of course!





The amazing Alex Honnold in November 2015. Those pitons were all for sale, signed by Alex, on this website. Everything he signed that day has been sold.
Babu Chirri Sherpa, who held the record for ten Everest ascents, and fastest climb from Bascamp to Summit, under 17 hours.
Hot Henry Barber. One of the very few climbers whose personal style and superb ability changed and upgraded how everybody after him climbed. I even adopted a delightful habit of his, that he must have picked up on his famous world tour in the seventies. Emulating Henry, I now sign my name with a British "Cheers. "

Chris Bonington, signing books al fresco. His Everest expeditions were often

done in a grand style that reminded one of the British Raj on Tiger safari.
The Man.
The Austro-Hungarian Empire. My wife Heinke Forfota was Hungarian, and Kurt Diemberger is Austrian. They loved to chat in German.
Heinrich Harrer, a climber who had the nose for finding the best unclimbed peaks and routes in the world. Also, can you believe, the Austrian golf champion too!
Tomaz Humar. A sweet person, this was in Snowbird in 2002

the week before the Utah Winter Olympics.
Jamling Tenzing, showing me his father's (Tenzing Norgay) Porter Book. The book is signed by Tilman, Shipton, Ruttledge, Lambert, Denman, etc. I offered him a joking $100 for it.

Goran Kropp. On his one and only book tour. His slide

show was the funniest performance I have ever seen!
Jeff Lowe. One of America's greatest ice climbers.
Royal Robbins and Tom Frost. Nothing else needs to be said.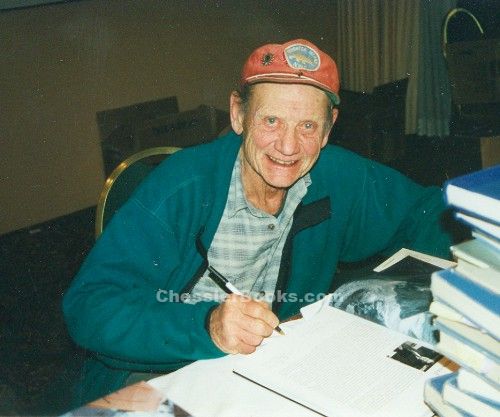 Pete Schoening. He and Andy Kauffman made the first ascent of Gasherbrum I, Hidden Peak. America's only time making a first ascent of an 8000 meter peak. He also saved his whole team, seven lives in one belay, on K2 in 1953.
Madhav Lal Tabdar, Bradford and Barbara Washburn, Roger Bilham, Buddhi Narayan Shrestha.
Brad was a legendary mountaineer, pioneer of Alaska climbing. Photo taken about 1989.
Barbara made the first female ascent of Denali in June 1947.
Roger Bilham is Colorado University Professor Emeritus, and a Senior Research Scientist in Geological Sciences • CIRES
The man on the left, Madhav Lal Tabdar, was Nepal Government Secretary, Ministry of Land Reform & Management.
The gentleman man next to Brad is Buddhi Narayan Shrestha, who was Director General of the Government Survey Department of Nepal.
The photograph was taken after the signing of the Memorandum Of Understanding (MOU) between the Nepal government and the University of Colorado, Boulder, to launch the GPS survey in Nepal to strengthen the geodetic co-ordinate network of Nepal.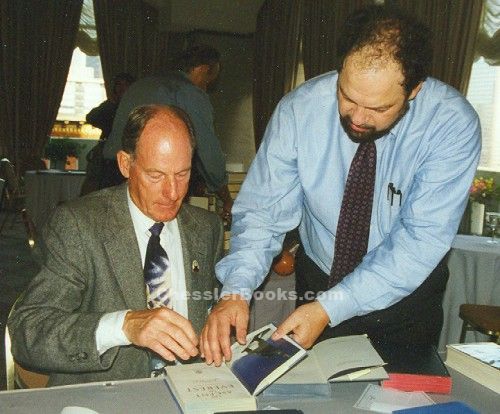 Jim Whittaker, with Michael Chessler. Jim's real accomplishment was being only the 10th person to summit Everest (he says he was 7th!), not the first American part.

Jim Wickwire, with Michael Chessler. Jim was one of the first Americans to climb K2, along with John Roskelley, Rick Ridgeway, and the strong and silent Louis Reichardt.
Reinhold Messner in our bookshop. More than anybody, he
created and nurtured high standard and ethical alpinism
in the high mountains of the world. Has anybody ever lived
their life so fully to the brim (and the edge) as he has?

David Breashears. A rock climber phenom who made the transition to Everest climber and film-maker.
Conrad Anker. A great rock climber who learned how to use an ice axe and crampons. It's so wonderful to see a self-effacing guy like Conrad become so successful in his business, avocation and private lives.

Ed Hillary, in our bookshop in the 1990s. We met with him fifteen times in the 1990s and 2000s.

Fred Beckey, whose very name symbolizes the freedom
of climbing and the climbing life-style.


Jon Krakauer. His book Into Thin Air gave an unexpected boost to climbing. Another quiet, self effacing climber who made the big-time.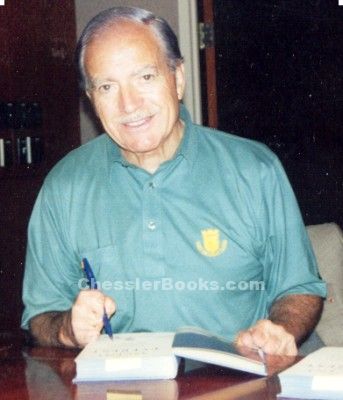 Maurice Herzog. See how he grips a pen with no fingers!
His handwriting was actually be excellent and readable!
What a great life he lived!

All above photos, and all photos on this website, are copyright by Michael Chessler.

Check Out These Great Titles:
(Click On Image Or Title To View Details)
EVEREST: THE HISTORY OF THE HIMALAYAN GIANT Roberto Mantovani 1997 1st UK ed Hardcover DJ Fine SIGNED by 11: Breashears, Bonington, Webster, Hornbein, Diemberger, Messner, Morrow, Tabei, Wielicki, Karo and Babu Chiri Sherpa
By: Mantovani, Roberto and Kurt Diemberger Price $249.99 ~ List Price $499.95, You Save $249.96